Adobe and Express Computer collaborated for the Adobe Elite Circle Leaders Talk to disseminate the extensive use case benefits of Generative AI for personal as well as enterprise users. The thought-provoking panel discussion, moderated by Express Computer, towards the end of the event, widened the audience's horizon on the vast capabilities of Adobe's generative AI – Firefly and generative AI as a whole.
Converging this world of exciting technological possibilities, where rapid advancements in AI and digital technology are reshaping how we work and play across various industries, such as healthcare, financial services, and retail, generative AI's current and potential integration is being poised to simplify and fasten daily chores beyond perceivable limits.
– In the Adobe Elite Circle Leaders Talk, Adobe cleared its approach to AI which is founded on three key principles:
– On Brand at Scale: Their generative AI ensures brand consistency across applications while allowing customisation, promoting ideation, and fostering innovation.
– Co-Pilot: Adobe acts as a co-pilot for digital experience design and delivery, providing flexibility to enrich, modify, or customise AI-generated content.
Enterprise Ready and Commercially Safe: Adobe prioritises ensuring that their AI solutions are enterprise-ready and commercially safe, training their generative AI on Adobe stock images, openly licensed content, and public domain content.
Adobe has been deeply involved in AI for the past decade, with a strong focus on infusing AI capabilities into their products. Adobe Sensei has been the core AI engine behind their offerings. Now, Adobe Firefly, their new offering, focused on generative AI, specifically generate images and text prompts, hence opening a new gateway to rapidly generate a magnitude of contents. It exposes the true creative power of generative AI and weaponises the users to ideate, optimise and scale in no time.
The future is seen as a landscape of creativity and productivity driven by AI. The AI market is expected to grow significantly, reaching over $400 billion by 2027, with an impressive annual growth rate of 37%. AI's impact extends to various industries, offering potential GDP contributions, such as a projected 21% increase in the US GDP by 2030. Additionally, a substantial 65% of business owners believe that AI will enhance customer relationships.
Karthik Padmanabhan, Global Competency Leader for Digital Experience Services, Cognizant mentioned, "Today, if you have intellectual property, a brand, or creative assets, and you need to rapidly generate content across various channels, targeting different geographies with diverse cultures and customer segments while maintaining a consistent brand identity, you can achieve this efficiently. Whether it's for social media, packaging, or TV, you can create content across different demographics and locations, and it can be done swiftly without the need for a large workforce. These tools can generate content, deploy it, measure its impact, receive feedback, adjust, and run campaigns automatically. It's an example of a process that can be executed quickly."
"It is fascinating to see the progress of AI and the branch of Generative AI has made in recent years…and there are definite opportunities which we can seize as businesses to our competitive advantages," said Vyshak Venugopalan, Head of Client and Partner Technology, Adobe India. He also emphasised that rather than considering it a threat to one's business, it is important to have a checklist to maximise the benefits of generative AI to use it to one's advantage:
– Is it commercially safe?
– Where will it fill in the current workflow?
– Who is responsible?
– Are we transparent?
– Is the team ready to embrace generative AI?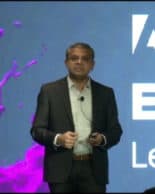 While commenting on the potential of generative AI, Girish Balachandran, Senior Director and Head of Digital Media Business, Adobe India and South Asia, said, "[It] is actually huge." Referring to the McKinsey report, he highlighted that generative AI has the potential add about $4 trillion to the world GDP on an annualised basis. "I think the majority of the value is coming from four main areas – customer operations, sales and marketing, software engineering, and product R&D," he added.
Speaking about the use case benefits of generative AI, Nagaraj GN, Partner, McKinsey and Company, shared two pilot examples, one involving an FMCG company with a significant social media following where Gen AI was used to boost sales, resulting in a 50% sales pipeline increase and 20% higher conversions. Another pilot in software engineering yielded 40% to 60% productivity gains tied to developer expertise. He emphasised that Gen AI complements talent and should not replace it, encouraging the grooming of new talent.
One prominent concern that has been raised is the ethical implications of generative AI outputs. As it combines multiple models to produce results, determining liability in legal matters can be challenging. To resolve this issue, Balachandran stated that any company who are working on a generative AI technology are needed to appoint an AI ethics committee in the first place for rigorous internal testing and passing on the internal concerns to the engineering team through the feedback mechanism.
"To mitigate harmful outputs, it's essential to ensure that you train the generative AI engine on inclusive, safe, proprietary datasets. From an Adobe perspective, Firefly is trained on Adobe stock images, which amount to over 300 million, openly licensed content, and public domain content with expired copyrights, making it commercially safe for users. We've taken the feedback mechanism a step further, incorporating it not only internally but also when we release our generative AI technology to the public, allowing users to voice their concerns," Balachandran explained.
Srikanth RP, Editor, Express Computer, recalling an old conversation with a CIO, said, "I had a conversation with a CIO who pointed out that even though lot of you say that AI can replace a lot of people, there is a particular group of professionals whose skills are becoming increasingly in demand. They are the legal experts. I found that observation quite interesting."
The Adobe Elite Circle Leaders Talk concluded with a panel discussion moderated by Express Computer's Srikanth, which highlighted three key factors that organisations should focus when embracing generative AI to deliver great experiences:
– Exposing Proprietary Data Safely: It's crucial to find a secure way to expose proprietary data, as this is where the true potential of generative AI emerges.
– Augmenting Human Creativity: Organisations should recognise that generative AI is not meant to replace human creativity but rather to enhance it. They should foster an environment where teams can adapt to this augmentation.
– Empowering the Workforce: Providing the workforce with the tools, training, and responsible usage guidelines is of paramount importance. Empowering people to use generative AI effectively and responsibly is a top priority.
The most exhilarating aspect of generative AI lies in its capacity to amplify creativity and innovation. It empowers individuals, even those who may have never considered themselves creative, to explore new horizons. This democratising force puts the power of content and creativity back in the hands of people and businesses, opening up a world of possibilities. It has the potential to accelerate idea development, visualising concepts early on and enhancing them, which is a driving force behind the interest in this field. It has the potential to transform business landscapes, elevate customer experiences, and touch every aspect of our lives in a positive way.
However, there still remains concerns regarding the individuals or entities that would harness this technology and whether it would be utilised with the necessary maturity and expertise. Like a double-edged knife, it depends on the user, and the uncertainty of where it might lead is a cause for caution. Also, the inadvertent promotion of bias poses a significant concern, as the technology heavily relies on the datasets it uses. Unintentionally perpetuating bias, inequality, and misinformation is a worrisome prospect. The risk of an overwhelming surge in data and content, where differentiating between real and fabricated information becomes a daunting task, adds to the apprehensions. Striking a balance between the potential and the peril of generative AI is essential for its responsible and effective deployment.