More than 90% of MSME businesses use legacy backup solutions: Kumar Vembu, CEO and Founder, GOFRUGAL
With every business going digital, there is a huge reliance on safety of data. While large organizations have processes to secure their data, in the case of retailers, there is still a lack of understanding and awareness. Industry experts believe that 90% of retail and distribution businesses do not have a reliable data backup solution and run the risk of business disruption. Many retailers resort to manual practices of copying data, which can be inefficient and error prone. For most of the small traders, their IT back up has always been a constant challenge.
To address this need, GOFRUGAL has conceptualized what it calls as the industry's first real-time Back-up-as-a-service solution. The product has been adopted by more than 3000+ businesses across the country to back-up their data in real-time.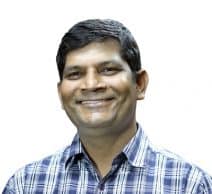 Kumar Vembu, CEO and Founder, GOFRUGAL, shares with us his perspective on some of the biggest backup related challenges for SMB and small retailers, and how his company's real-time backup solution has been adopted in the market
Some edited excerpts:
Do you believe that investments in technology have gone up for SMB and MSME retailers in the past 1.5 years (during the pandemic)? What are some of the technology trends you have seen in this space?
Technology has always been a driver for MSME retailers to re-design a new generation of digital-native solutions post-pandemic to cater to the new normal. This push is because of consumers who have been exposed to the best of experiences. Businesses needed to upgrade to omnichannel ordering, same-day or two-hour delivery, contactless payments, express checkout, self-service kiosks, curbside pick-up, improved customer experience with in-store mobility, etc. To ensure business continuity and offer seamless experience businesses need to secure data more than ever as it is a valuable asset going forward. 2021 is an inflection point where tech adoption was a need rather than a choice to gain a competitive edge and get new customers. With the right tech adoption, MSMEs can promote self-service to every stakeholder and empowers them with real-time insights for faster decision making.
Currently, how do MSMEs or SMBs address their backup requirements? Do they invest in backup solutions? What percentage of the MSMEs or SMBs (approximately) do you believe have invested in backup solutions?
More than 90% of MSME businesses use a legacy backup that is manual, error-prone, time-consuming, labor/skill-intensive, and harder and unreliable. The COVID 19 pandemic has accelerated the adoption of data backup and recovery to businesses. 47% of micro-enterprises and 53% of SMEe have adopted digital sales platforms according to CRISILs October 2020 data. With 2021 being the year of ransomware for India and with a recent study more than 68% of Indian businesses were hit by ransomware in the last year. With Retail experiencing the highest level of attacks, MSMEs are more vulnerable and it is high time they brace up and heighten their data protection and backup.
What is the positioning behind GoSecure? How unique or different is it from other backup solutions?
GoSecure is a real-time backup as a Service (BaaS ) tool that automates the data backup process by completely syncing data to the cloud continuously. GoSecure not only protects from loss from data thefts, it also helps businesses remain on the right side of the law. Be it GST or VAT, statutory law mandates generation and maintenance of electronic records and documents for at least three to seven 7 years. GoSecure will be your data locker to backup and restore your important business information so you can remain statutory compliant.
Data is the backbone of any business. By securing it with GoSecure, businesses remains secured, data remains protected and their peace of mind preserved. It also ensures a seamless restoring mechanism for businesses of any size to revive the data from the cloud in real-time. With GoSecure private-key, a business can safeguard against data theft, default database passwords, etc. With MFA-based authentication which is a machine-generated unique key to access database. By adopting GoSecure, MSMEs can benefit from lower total cost of ownership. There is no upfront investment in infrastructure, no skill or expertise required to manage backup. This is completely automated and the data backup process happens in the background, with a one-time setup.
What has been the market acceptance for this solution?
With the recent surge in ransomware attacks, the introduction of data protection bill, digital transformation, integration with different workflow systems, etc, businesses have realized that data is the key enabler to understand and improve customer experience. Gofrugal has invested a lot of time and effort to ensure even MSMEs can afford the automated backup solutions which are not only easy but ensures 100% business continuity and data protection. Around 1000+ customers opted even during the pilot phase and now GoSecure has secured data for more than 3000+ businesses, with about 500+ data restorations per month. A leading recipe pharma leader in Tirupur woke up one fine day only to find the day wasn't so fine for him. He was hit by a ransomware attack. Thankfully, he had backed all his data with GoSecure and hence was able to recover all the data within 30 minutes. Importantly, with 0% data loss. From a stationery store in Bangalore or an apparel store in Shillong, all of them have experienced data loss and were quickly able to recover back with GoSecure.