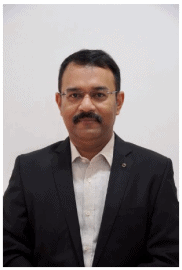 By Ayan De, Chief Technology Officer, Exide Life Insurance
Somebody wise once said, "The stone age didn't end because they ran out of stones." I believe it was the hunger to grow, survive, and elevate; in the constant journey to move ahead, there was a new age!
In an ever-evolving world, the only constant is to learn and keep yourself upgraded. The world was quick to realize this with the global pandemic of 2020. Industries had to gear up overnight to stay ahead of uncertainties and keep the businesses running seamlessly. One way to ace the game was to create digital innovation. Organizations across sectors were quick to embark on the journey of digital transformation and adopt an agile approach to remain steadfast in the ecosystem. This saw a huge transformation in the way Banking, Financial System, and insurance worked, where companies started investing in technology and using data to develop tools that would help customers avail various services real time besides the help they require from customer service executives.
Technological disruption has surely taken the world by storm with changing landscapes and customer dynamics in the recent past, but the disruption was noticeable even when it was picking pace in a pre-Covid world. The insurance sector, which is a colossal and competitive one that usually relies on in-person meetings, in fact, was an early adopter to embrace this change. The pandemic led to a fast digital adoption by customers and more people were comfortable with researching and purchasing products digitally. At Exide Life, we realized the biggest risk of disruption was to cater to our existing & new customers, and we created digital platforms to carry out engagements ranging from socializing products, financial need assessment, risk evaluation, payments and policy issuance. The transformation was seamless as we had started building digital enterprise assets much before the pandemic hit. We were, hence, future-ready and today, our entire complex sales process is digitized.
Insurance as a sector is competitive and complex, and here are some ways how technology is simplifying the process:
Virtual selling: Insurers lost no time in moving from the traditional way of selling insurance products to customers, to onboarding them through digital means starting from the application stage and e-KYC compliance, to verification and approval, to claims settlement. Digitisation has made the entire insurance ecosystem hassle-free, convenient and affordable. It is also creating a plethora of options both in terms of products and processes, enabling customers to select insurance policies of their choice and in line with their requirement and financial appetite.
Data-driven and cloud-based operations: With the uncertainties brought in by the pandemic, insurers are investing in new-age technologies to build intelligent data blocks and cloud platforms to drive data analytics. This helps divide customers into various segments, develop a focused selling pattern, push cross selling and upselling based on life stages, have a retention strategy in place, and bucketing of products based on their features. Cloud-based solutions enable insurers to integrate risk management into their business, and ensure scalability, resilience and on-tap access to critical SaaS tools.
Artificial Intelligence and Machine Learning: The insurance sector has been deploying Artificial Intelligence and Machine Learning tools in their business operations. AI is enabling insurers to create a propensity model that allows them to predict the behaviour of customers across the insurance value chain including underwriting and claims processing. ML allows insurers to feed structured data into their systems and serve the customers better in future interactions. The technology is used to understand the risk appetite, premium-paying capacity, claims processing, fraud detection, legal implications and sales pattern, among other areas.
Personalization: The insurance sector is using technology to personalize both the product offering and customer servicing. Insurers are offering products based on demographics, individual behaviour and preferences, customer needs at various life stages, and real-time interaction. Personalized insurance is helping companies streamline operations and reach out to customers with tailor-made products through targeted messaging, attractive offers and pricing, and superior user experience.
Technology is making insurance selling productive and profitable for insurers, and easier and seamless for customers, and is a win-win situation for both. Technology has not only changed the way insurance companies are relooking at their business, it has also lent customers an easy hand to plan their finances with an easy access to technology in the comfort of their homes.